US Digital Awarded ISO 9001:2008 Certification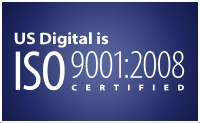 Vancouver, WA, October 31, 2013 - US Digital, U.S. manufacturer of motion control products, announced they have achieved the ISO 9001:2008 certification based on standards established by the international organization. US Digital received the certification from PRI Registrar, which involved a rigorous audit of business processes, manufacturing processes and products. Scope of Registration includes design, manufacturing, assembly and distribution of motion control products and accessories.
As part of the ISO certification process, US Digital implemented an ISO compliant Quality Management System to ensure commitment to customer satisfaction and strengthen performance through improving and streamlining processes.
"US Digital's commitment to the ISO 9001:2008 framework demonstrates quality is our priority, from products and processes to customer support and delivery. Our customers can be confident that we will work to exceed their quality expectations and continue to analyze and improve our processes," said Bob Willoughby, President of US Digital.
More in News
Company Links
Stay up to date
Sign up for our newsletter to stay up to date with our product updates, blog posts, videos and white papers.