Three things to know about encoder size
When it comes to encoder size, there are a few things to keep in mind: the overall dimensions of the encoder housing, the bolt circle and shaft/bore size.
In this post, we'll go over each item in detail to help you make the right decision.
How do you find an encoder's overall dimensions?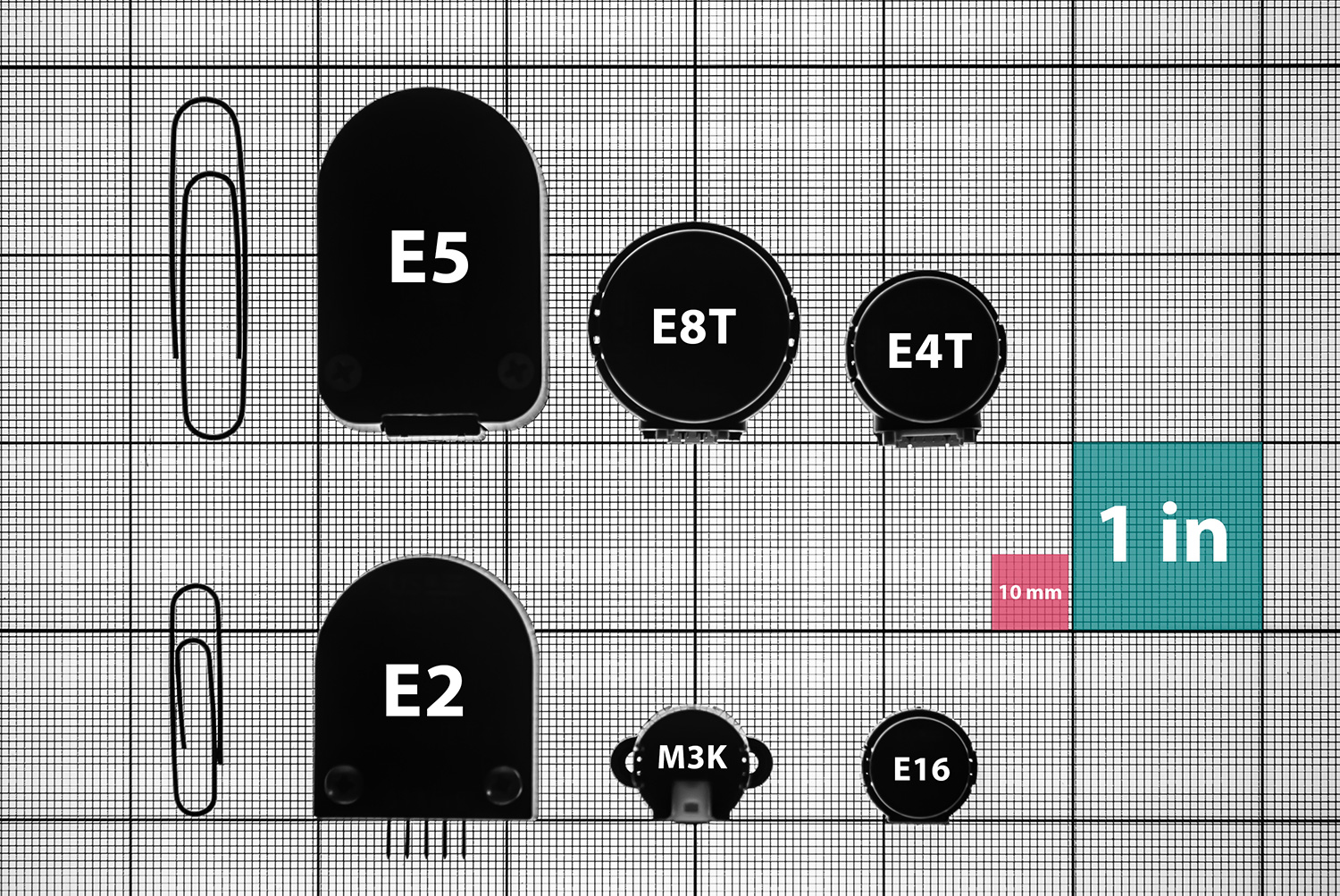 Perhaps the most obvious thing to look at when it comes to picking an encoder, are the overall dimensions of the encoder itself. The image above shows the relative size of our most popular small rotary encoder kits. You can also find the dimensions of our encoders by clicking on the "Mechanical Drawings" tab beneath the product photos.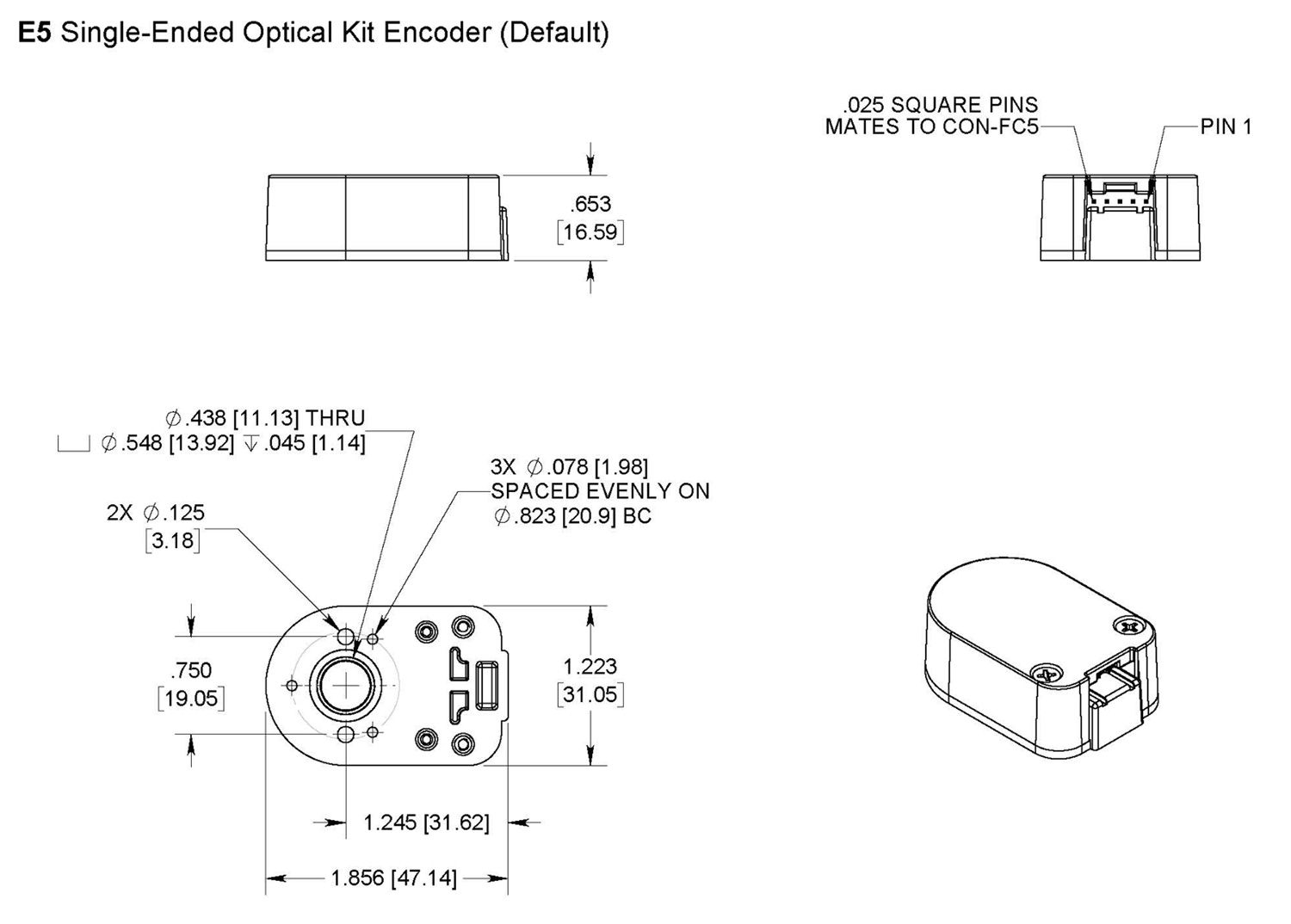 If you look at our E5 Mechanical Drawing (also posted above), you can see multiple dimensions called out both of the top-down and profile view of the encoder. The first numbers listed are Imperial (inches) and the numbers in brackets are Metric (mm).
These dimensions are fixed for each encoder and don't really change, however there are different encoder size variables that do.
Different bolt circle options for different mounting configurations
An encoder's bolt circle is also important when considering the right encoder for your next project. To clarify, an encoder's bolt circle is the space between the center of the two holes where the mounting screws will be installed.
Unlike the overall dimensions of the encoder which don't really change, many encoders have different bolt circle options to suit a variety mounting configurations. These are available by selecting a different base option when ordering.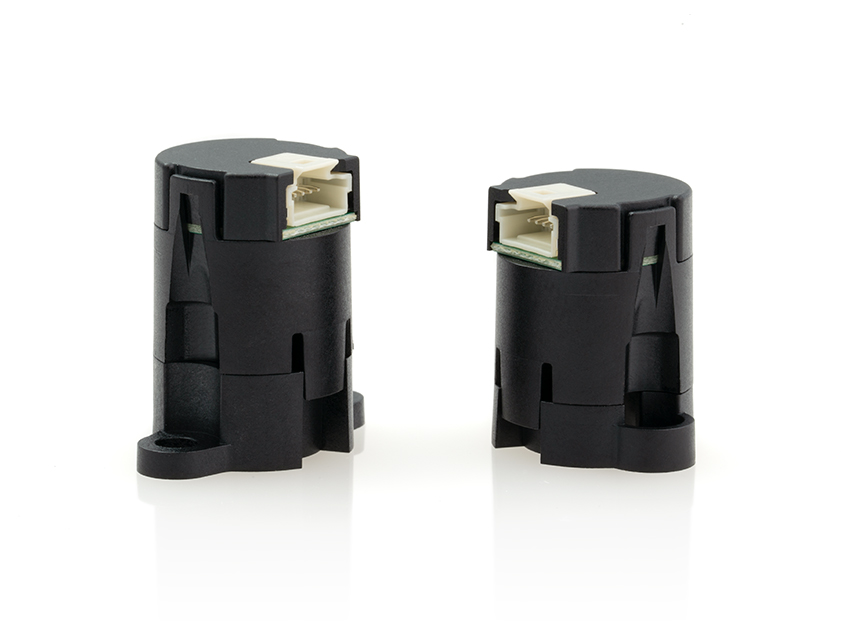 For instance, our M3K Miniature Magnetic Encoder is available with a bolt circle of 0.586 in. or 0.750 in. (The two different base sizes can be seen in the image above.)
By the way, we have the ability to quickly turn around custom configurations for our encoders. If you're looking for a bolt circle option that isn't available now, that doesn't necessarily mean we can't make one for you. Be sure to contact out technical support team to learn more.
What shaft/bore size do you need for your encoder?
So far, we have covered physical dimensions that relate to the mounting of the encoder to your motor or system. The final topic we need to discuss when it comes to size, is making sure that your encoder is compatible with the shaft that it is being connected to. That's where shaft/bore size comes in.
Just as it sounds, bore size of an encoder dictates what size shafts will work with the encoder. (In the case of a shaft encoder, shaft size is the size of the shaft.) Our encoders come with a variety of bore size options ranging from 1.5mm to 1 in., depending on the encoder.
While finding the right dimensions, bolt circle and bore size are the main considerations of finding the right size encoder, it's only the beginning of the encoder selection process. Next, you'll have to narrow down other key electrical specifications including resolution, whether you need an Index or not and what kind of output you need, among other things.
If you're looking for more information on how to specificy an encoder for a project, be sure to check out our "Encoder Basics for Motion Control Engineers" white paper.
More in News
Stay up to date
Sign up for our newsletter to stay up to date with our product updates, blog posts, videos and white papers.